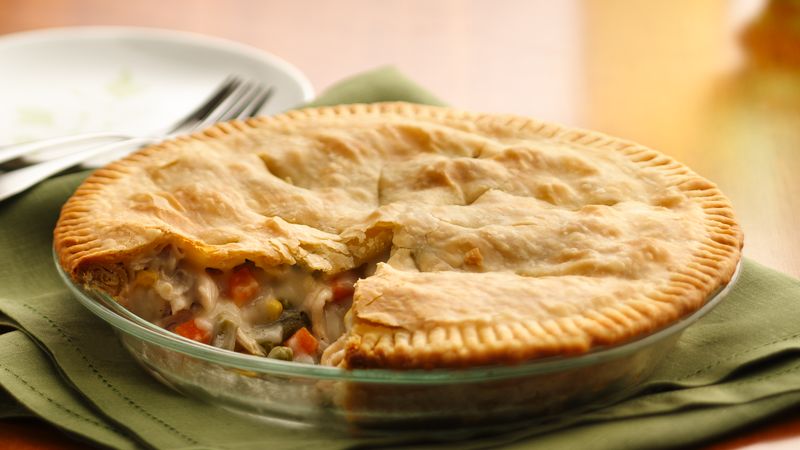 Every Christmas (and Thanksgiving) I get a 12-15 pound turkey and roast it for that holiday. Afterwards I have lots of turkey remaining. Which is great, because I get to make a pot pie like the one above! The recipe I have comes from a 1994 Canadian Living recipe and it calls for chicken, but obviously turkey works great. Also it calls for frozen veg and 1 cup of canned potatoes, but what I do is buy a 14 oz can of mixed veg (with potatoes) and use 2ish cups of cubed roasted turkey and it works out fine.
Now for years I have searched for this recipe on the Internet, but I could not find it. This could be due to Canadian Living not posting the recipe. But when I searched for the words "Fast-Lane Chicken Pot Pie", I found it here at food.com. It's literally the exact recipe I have from an old Canadian Living Cookbook (which is out of stock as far as I can tell, though you can get an old copy here.)
Since it is such a good recipe, I will "reprint it here". It's a very simple recipe: 1) you make a sauce, 2) you season it, 3) you add the ingredients together 4) you add the ingredients to the pie 5) you bake the pie. Boom! Easy.
I love the seasoning in this particular sauce. I have substituted the green onions before, but they work best. Same with the dry mustard and thyme. You can riff on the veg and the amount of turkey but keep the seasoning for this sauce and you will be glad you did.
Basically this is a casserole dish, but you bake it in a crust. You could try it with other casserole toppings and I am sure it would be fine. Heck, you could toss this over cooked pasta and it would also be delicious. But try the pie.
Fast-Lane Chicken Pot Pie (everything in parenthesis is my comment -b)
2 tablespoons butter
4 green onions, chopped (very fine -b)
2 tablespoons all-purpose flour
1 cup chicken stock
1⁄2 cup milk (the combination of stock and milk is best, though you could do just stock. -b)
3⁄4 teaspoon salt
1⁄2 teaspoon dry mustard
1⁄4 teaspoon pepper
1⁄4 teaspoon dried thyme
2 cups frozen mixed vegetables (or a 14 oz can of mixed veg, drained -b)
1 1⁄2 cups cooked chicken, chopped (or 2 cups of chopped chicken or turkey -b)
1 cup canned whole potatoes, quartered (or skip this and add a bit more turkey. You want 4-4.5 cups of filling -b)
2 frozen 9-inch deep dish pie shells (let thaw a bit while cooking the rest. You want it somewhat pliable -b)
1 egg, lightly beaten
In large saucepan, melt butter over medium heat; cook onions, stirring occasionally, for 1 minute or until softened. Sprinkle with flour; cook, stirring, for 1 minute; without browning. Gradually whisk in stock and milk; bring to boil. (I skip the boil and just cook it the whole time on medium-low. I find white sauces easier to handle this way. -b)
Reduce heat and cook, stirring, for 5 minutes or until thickened. (You don't want it too thick. If it gets too thick, add a few tablespoons of milk or stock or even water. -b) Stir in salt, mustard, pepper and thyme. Add frozen vegetables, chicken and potatoes. Pour filling into 1 of the pie shells. (whatever doesn't fit just eat straight up! -b)
Moisten edge with some of the egg; invert remaining pie shell over top and remove foil plate. Flute edges to seal. Brush top with egg; cut steam vents in top. Bake in 400 degree oven for about 30 minutes or until filling is bubbly and crust is golden. (If it is browning too fast, just put some aluminum foil on top. -b)
(Should serve 4 and it goes well with a nice green salad. Also if you have leftovers, refrigerate and then microwave it or heat it in an oven with foil on top. -b)
P.S. If you want a different recipe where you make your own crust, go to Betty Crocker here. Personally I am fine with using frozen crusts.
Image via the Betty Crocker recipe!