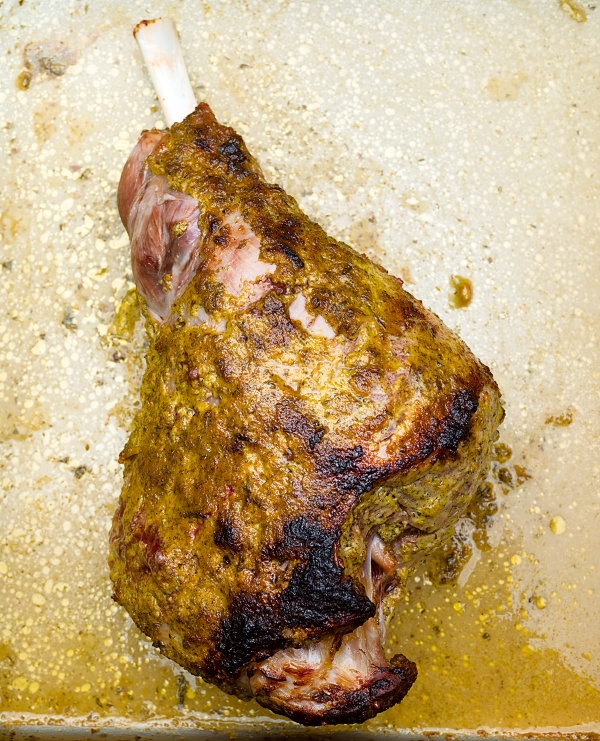 I recently made this herbed leg of lamb recipe from Nigella and let me tell you it is fabulous. If you like to have a big Sunday feast but have grown tired of pork roasts and chicken, have a go at this. It's not as difficult as you might think. If you follow the instructions carefully — they are not that difficult — and keep an eye on the internal temperature, you will have a beautiful piece of meat that is also delicious. Plus people will say, "wow you made a leg of lamb…you can really cook" and you can modestly but confidently agree. 🙂
The secret to this recipe is the green sauce you cover the lamb with. While I love all green sauces, this one in particular goes great with lamb. The combination of lemon and orange and rosemary and oregano combined with copious amount of garlic is perfect. Sure, you can play around with the herbs and the citrus, substituting in some parsley for the oregano if you don't have enough of the latter. You can certainly increase the garlic. (You can decrease it too but why would you do that? :)) Whatever you do though, try and stick with the original recipe at first. You'll be glad you did.
To go with this, I wanted a starch. I went with lemon potatoes from Smitten Kitchen. Sure they are more effort than simple rice or mashed potatoes. But for a Sunday feast you want to put in a bit of effort. Heck, you have time…it's Sunday! And the effort is worth it. These spuds pair wonderfully with this lamb.
If you are still in need of an additional side, you could have a simple creamy cucumber salad or go with this side of roasted tomatoes with thyme and feta. We're talking Sunday Mediterranean feast here, so pour a good glass of white, maybe an Italian vermentino or a Greek assyrtiko. Tear off some bread and dip it in some expensive olive oil. You are living the good life right now.
Just writing about this makes me want to have it again. I hope you have it soon too.