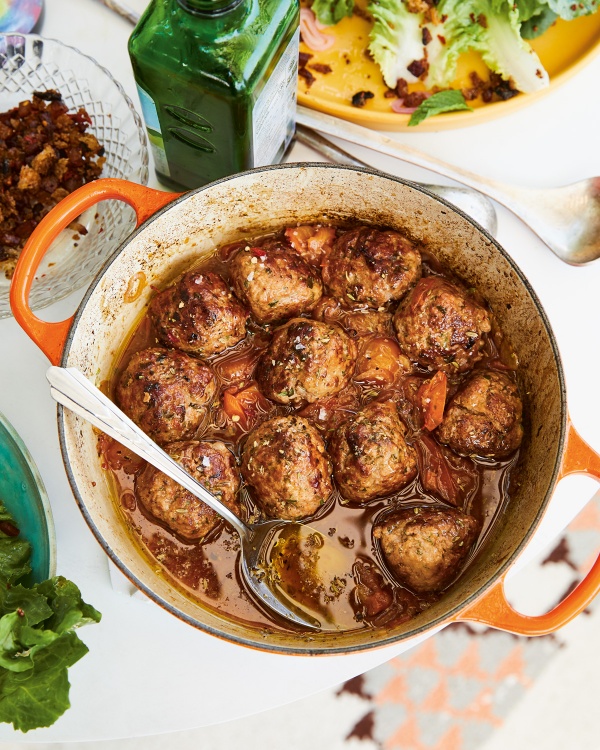 When I was a kid, at Christmas my dad would often make a large batch of meatballs (as well as cutlets) and put them in the fridge for us to snack on at that busy time. They were perfect then and they are perfect now.
Meatballs meet all your meal needs. If you need something to tide you over, grab a meatball and go. If you need some appetizers, put out some meatballs along with some sauce and you are golden. If you want to make a sandwich, fill a bun with a meatball and some other ingredients and you have a meal. Add them to some pasta of any sort and you have dinner. Heck put them with an egg and toast and you have breakfast. When you get in a cooking rut put some meatballs in your fridge and even if you don't want to cook, you have something to eat.
Meatballs are infinitely riffable. Any set of ingredients added to a meatball makes a new type of meatball. To see what I mean, check out these 11 meatball recipes from Chatelaine. Start with classic spaghetti and meatballs. If you have made basic meatballs before, you likely recognize the ingredients. For a slight twist on that, there's these herbed chicken meatballs with spaghetti. Also good. Now take it up a notch and try these: Jamie Oliver's Meatballs alla Norma. Fancy! But still based on your basic meatball recipe. Now do all meatball recipes have Italian based flavours? Of course not. Here's another classic that is decidedly not Italian: Saucy Swedish meatballs over egg noodles. If you are craving Thai flavours and meatballs, these will hit the spot: Thai turkey meatballs recipe. Now meatballs aren't vegetarian, but if you want to combine the healthiness of that with some lighter meatballs, this looks great: Baked meatballs with roasted vegetables. Meatballs are great. If you want even more meatball recipes, check out Budget Bytes, which has lots of them.
Besides riffable recipes, at this blog we love low cost recipes. Cucina povera. Peasant cooking. Meatballs definitely are a part of that. Sure you can make your meatballs purely out of meat and nothing but some salt and pepper. But you can also stretch them out by adding a lot of filler: chopped vegetable, bread crumbs, or dried bread soaked in milk. Those things do more than reduce the cost, but reduce the cost they do.
If by this time I haven't convinced you, here are two final recipes.  First up is Alison Roman's meatballs featured on Nigella Lawson's web site: Spicy Pork Meatballs in Brothy Tomatoes and Toasted Fennel (Guest Recipes, Nigella's Recipes, Nigella Lawson). I mean just make them to be cool. They are also really tasty. And finally these are my favourite meatballs: Crispy Sheet-Pan Meatballs with Salsa Verde Recipe | Bon Appétit.  They are a powerhouse of flavour. Highly highly recommend them.
(Photo by Michael Graydon and Nikole Herriott via Nigella's site.)